Professional Ontario Arborists
Serving the Wellington and Halton Areas
Services
We offer a wide range of services to support all of your tree care needs. These include:
Site Assessment/Planning
If you plan on adding on to your home, clearing a lot or managing your forest, A&J can lead you in the right direction to make sure your mature trees are taken care of. Remember that mature trees are a big investment to property owners. No need to take one down if you can plan around it.
Cabling
Cabling is often needed when the structural integrity of the tree has been compromised or is in question. We will install steel cables of the through bolt nature and/or non-invasive cobra cable.
Pruning
Pruning is an extremely important aspect of a tree's health and longevity. Preventative measures taken will not only increase the health of your tree but also the safety of your assets and your family.
We like to follow the 3D approach when assessing your trees:
Damaged
Diseased
Dying/Dead
Hedge Trimming
Yearly hedge maintenance is necessary to keep those hedges in top shape. We can handle any hedge, big or small. Keeping hedges trimmed will save them from the destructiveness of heavy rain/snow, wind and storms.
Tree Removals
This is the last resort!
Reasons for removal are:
Hazardous Trees
Storm Damage
Dead Tree
Oversized/Wrong Location
Interference with underground services, foundations, powerlines
Safety
A dead or dying tree can be a hazard to buildings, livestock and your personal assets.
Stump Removal
Unsightly stumps in your yard can be an eyesore, tripping hazard and can severely damage a lawn mower. We have the ability to grind stumps down 6-12 inches below grade of the land. You will be left with a level, usable area. In some cases, the area can be re-used to plant a new tree, replacing the one that was lost.
Clean-Ups and Chipping
We offer yard waste removal, leaf blowing and fall clean-up. Our wood chipper can turn a pile of unwanted brush into a usable pile of wood chips.
Firewood Splitting
There is nothing worse than leaving a good pile of firewood to rot when it could be split and stacked properly, ready to use. We have the capabilities to split your firewood and stack it in a desired location. Don't be left out in the cold!
If there is something specific that is not listed here please feel free to contact us at (519) 856-4226
Hazardous trees can be hard to identify!  Please call if you have any questions or concerns regarding the safety of the trees on your property.
We can offer options on SECURING, SAVING, or the last resort FULL REMOVAL.
Equipment
Our equipment is very specific to the industry. Reliability and safety are very important to us and to our clients. Our equipment includes:
Lift
2014 CMC Backyard Crawler 78
This specific piece of equipment is what makes A&J different from many other companies. We can access almost any back yard using our crawler lift. It reaches 78 ft. and can fit through a standard size garden gate. It makes the job cleaner and much safer!! It is especially handy for the removal of dead trees and branches that cannot be felled or climbed.
Stump Grinder
Vermeer 252 Stump Grinder
The Vermeer 252 stump grinder is self propelled and hydraulic. We can grind down into the ground 12" leaving you with a spot that can be top dressed and reseeded. Stumping is an added bonus to rid you of an unsightly stump. They can damage lawn mowers and be an annoying trip hazard. We offer stump grinding as an option along with the removal.
Wood Chipper
1996 Vermeer 935 Diesel
 It's not pretty but it does the job!! Our 935 Vermeer Brush Chipper can safely handle 8" logs and will process them whole. The chips that are produced are very uniform and can be reused on your property in gardens or around your trees. We also offer removal and disposal of the woodchip if it will not be reused onsite.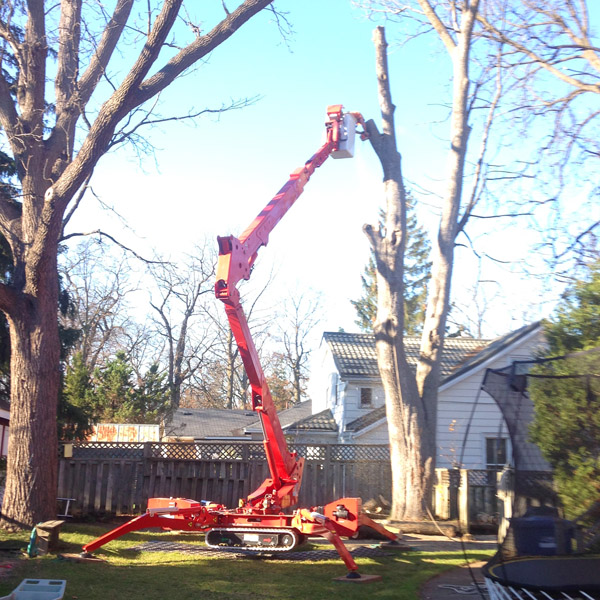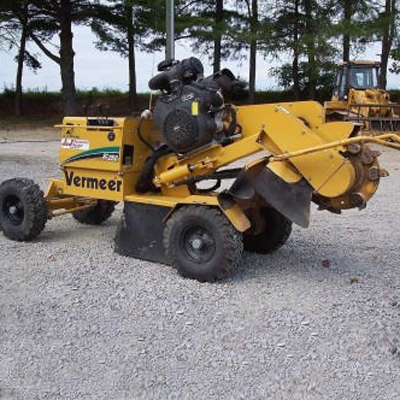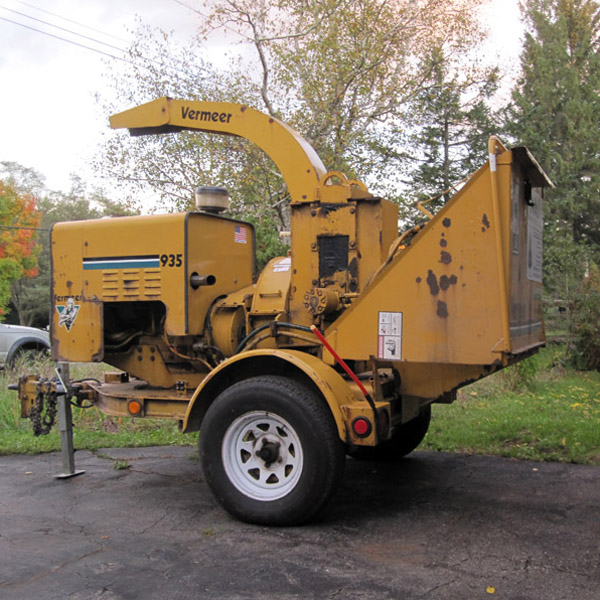 A&J Tree and Shrub Care is fully insured and registered with the WSIB
About A&J Tree and Shrub Care
A&J is a full service commercial/residential arboriculture company started in 2009 and is owned and Operated By Abe and Josh Williams. We are located outside of Guelph Ontario and service the following areas:
Guelph / Eramosa, North Halton, Kitchener/Waterloo, Cambridge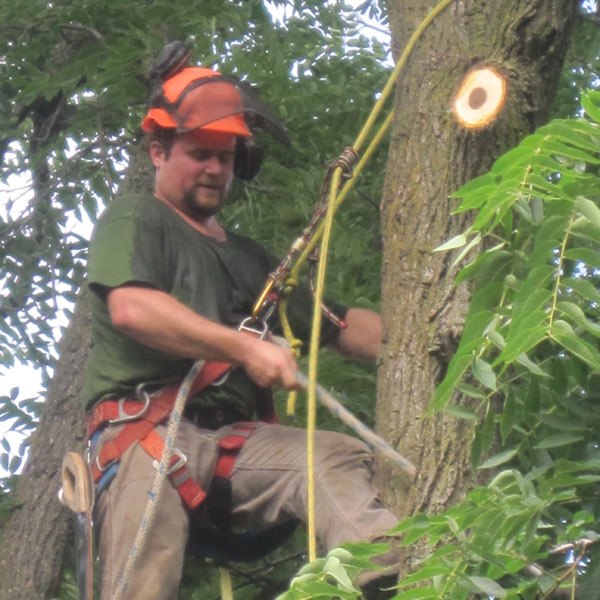 Abe Williams
Abe has been working in the the urban Arboriculture field from B.C. to Ontario since 1996.  A certificate holder of the Urban Arboriculture Program from Humber College (1998).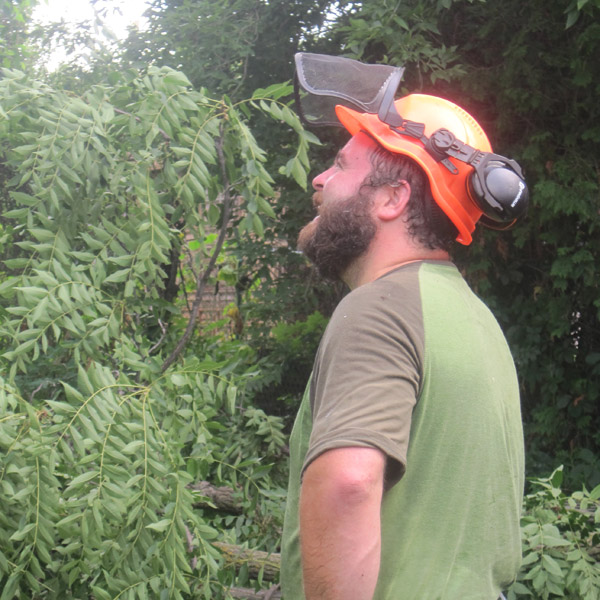 Josh Williams
Josh has been working in the urban arboriculture field since 2010. He is a University of Guelph certificate holder in the Arboriculture Program (2012) as well as a masters certificate in Project Management through the Schulich School of Business (2003).